MICRO 2 LUX
Cable Protector Micro 2 LUX 2-Channel
Particularly slip- and tread-resistant 3D LaserGrip® surface
Highly transparent yellow tinted lid for use in the dark with light tubes
New ergonomic design for improved stability when walked or driven on
Patented self-cleaning hinge and convenient locking system
2 channels, 35 x 30 mm each, for high-voltage cables and water hoses
Load capacity approx. 2 t/ 20 x 20 cm
Fire protection class B2 (DIN 4 102)
Resistant to oil, acid, petrol and short-term contact with solvents
Dimensions 1005 x 273 x 45 mm, weight approx. 5.2 kg
Manufactured with extremely robust and non-breakable TPU
Customised branding possible
Particularly slip- and tread-resistant 3D LaserGrip® surface
Highly transparent yellow tinted lid for use in the dark with light tubes
New ergonomic design for improved stability when walked or driven on
Patented self-cleaning hinge and convenient locking system
2 channels, 35 x 30 mm each, for high-voltage cables and water hoses
Load capacity approx. 2 t/ 20 x 20 cm
Fire protection class B2 (DIN 4 102)
Resistant to oil, acid, petrol and short-term contact with solvents
Dimensions 1005 x 273 x 45 mm, weight approx. 5.2 kg
Manufactured with extremely robust and non-breakable TPU
Customised branding possible
Description
The ultimate solution for protecting cables and avoiding trip hazards. The innovative cable bridges of the Defender LUX series have highly transparent, yellow-tinted covers in which LED light tubes can be laid parallel to cables and other lines. Defender LUX cable bridges were developed in collaboration with eventwith event organisers and operators of large halls and festival grounds and guarantee the highest possible safety and visibility, even in the dark. safety and visibility in the dark, both indoors and outdoors. For more information, see our price list for Defender LUX cable bridges, or contact your Defender representative directly.
With a load capacity of 2 tonnes per 20 x 20 cm area, MICRO cable bridges support smaller trucks, vehicles, trolleys, bicycles, wheelchairs and pedestrians. The LaserGrip® surface with its special structure and unique design ensures special slip and tread resistance. Extremely break-proof TPU material ensures the durability of the robust cable bridge.
Even greater safety thanks to the new 3D LaserGrip® surface
The innovative design of the 3D LaserGrip® surface significantly increases tread and slip resistance. Due to the special shape and surface structure, the risk of moving an entire line of Defender® MICRO cable protectors is significantly reduced - even when driven over by heavy vehicles.
Label your cable protectors! All Defender cable protectors can be customised with your company logo from a minimum order of just 30 units per model. The format requirements are available in the download area. Feel free to get in touch with us.
Specifications
| | |
| --- | --- |
| Product type | Cable Protectors |
| Type | 2 Channels |
| Width | 273 mm |
| Height | 45 mm |
| Length | 1005 mm |
| Channels | 2 |
| Width channel 1 | 35 mm |
| Height channel 1 | 30 mm |
| Width channel 2 | 35 mm |
| Height channel 2 | 30 mm |
| Material | Polyurethane |
| Max load | approx. 2 t on a surface area of 20 x 20 cm |
| Chemical resistance | Oil-resistant, Petrol-resistant, Short-term contact with solvents |
| Hardness range | 88 Shore ± 4 Shore |
| Fire protection class | B2 |
| Temperature range | -30°C to 60°C °C |
| Weight | 5,2 kg |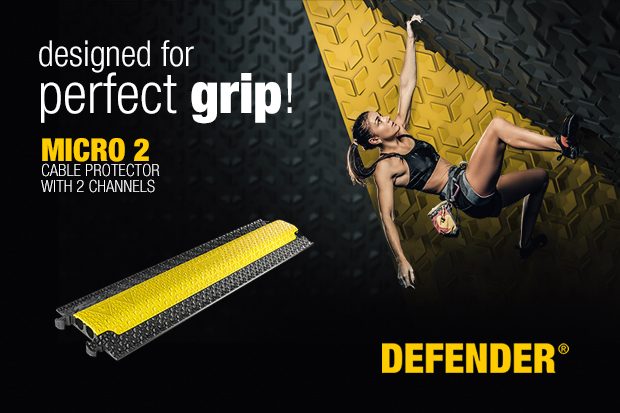 Protect Your World – Defender® Presents the MICRO 2 Cable Protector Series and a New Brand Website