MINI BLK
Cable Protector 3-channel with Black Cap
compact, non-slip cable protector made of black, recyclable polyurethane
black polyethylene lid with secure closure
patented, self-cleaning lid hinge
3 channels: 1 channel 35 x 35 mm, 2 channels 35 x 30 mm
Load bearing capacity approx. 2t / 20 x 20 cm
Fire resistance class B2 (DIN 4102)
Resistant to oil, acid, petrol and short-term contact with solvents
Dimensions 105 x 29 x 5 cm; Weight 6 kg
reliable protection for cables and personnel for indoor and outdoor use
not suitable for vehicular traffic
End ramps for secure cable inlet and exit as accessories
compact, non-slip cable protector made of black, recyclable polyurethane
black polyethylene lid with secure closure
patented, self-cleaning lid hinge
3 channels: 1 channel 35 x 35 mm, 2 channels 35 x 30 mm
Load bearing capacity approx. 2t / 20 x 20 cm
Fire resistance class B2 (DIN 4102)
Resistant to oil, acid, petrol and short-term contact with solvents
Dimensions 105 x 29 x 5 cm; Weight 6 kg
reliable protection for cables and personnel for indoor and outdoor use
not suitable for vehicular traffic
End ramps for secure cable inlet and exit as accessories
Description
Small but sturdy. Light, professional and universally useable. The new DEFENDER Mini meets all expectations when it comes to professional cable protection, expanding the DEFENDER series to include a compact, very light (only 5 kg!) cable crossover capable of supporting vehicle traffic.
Sporting three cable channels with a channel cross-section of 35 mm and an installation height of 48 mm, this crossover is mainly used indoors, but with a capacity of more than 2 tonnes it can easily withstand road traffic, too. The base of the DEFENDER Mini has a non-slip surface so as to guarantee optimum support on as many different floor types as possible. Like all of the DEFENDER cable crossovers, the DEFENDER Mini is resistant to oil, acids & petrol and has a patented self-cleaning hinged closure.
Label your cable crossovers! We are now able to customise all Defender cable crossovers with your company logo from a minimum order of just 30 units per model. The format requirements are available in the download area.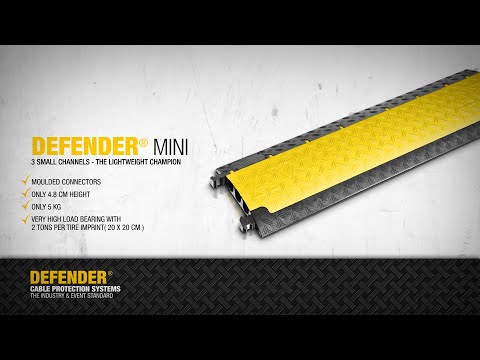 Specifications
| | |
| --- | --- |
| Product type | Cable Protectors |
| Type | 3 Channels |
| Width | 290 mm |
| Height | 50 mm |
| Length | 1005 mm |
| Channels | 3 |
| Width channel 1 | 35 mm |
| Height channel 1 | 30 mm |
| Width channel 2 | 35 mm |
| Height channel 2 | 35 mm |
| Width channel 3 | 35 mm |
| Height channel 3 | 30 mm |
| Material | Polyurethane |
| Max load | approx. 2 t on a surface area of 20 x 20 cm |
| Chemical resistance | Oil-resistant, Petrol-resistant, Short-term contact with solvents |
| Hardness range | 88 Shore ± 4 Shore |
| Fire protection class | B2 |
| Temperature range | -30 to +60 °C |
| Weight | 5,9 kg |