MIDI 5 BLU
Cable Protector 5-channel blue for 85305SET Wheel Chair Ramp
Heavy-duty,non-slip all-round cable protector made of black, recyclable polyurethane with built-in carrying handles
Blue polyurethane lid with with pre-drilled mounting holes and secure closure
Load bearing capacity approx. 5 t / 25 x 30 cm
Fire resistance class B2 (DIN 4102)
Resistant to oil, acid, petrol and short-term contact with solvents
Dimensions 89 x 54.2 x 5.2 cm; Weight 11.5 kg
Reliable protection for cables and personnel for indoor and outdoor use
Curves and end ramps for flexible cable protection are available as accessories
Heavy-duty,non-slip all-round cable protector made of black, recyclable polyurethane with built-in carrying handles
Blue polyurethane lid with with pre-drilled mounting holes and secure closure
Load bearing capacity approx. 5 t / 25 x 30 cm
Fire resistance class B2 (DIN 4102)
Resistant to oil, acid, petrol and short-term contact with solvents
Dimensions 89 x 54.2 x 5.2 cm; Weight 11.5 kg
Reliable protection for cables and personnel for indoor and outdoor use
Curves and end ramps for flexible cable protection are available as accessories
Description
Blue pre-drilled DEFENDER® MIDI cable protector.
As it is the case with all protectors of the DEFENDER® series, the blue DEFENDER® cable protectors is oil, acid, and petrol resistant.
We recommend the use of our wheelchair ramp set including 3 Lines (6 ramp pieces) with the matching extremity pieces. These pieces must be used together with the blue pre-drilled DEFENDER® MIDI cable protectors. The drilling ensures that the ramp doesn't slide from the cable protectors. With this configuration the drive across zone is 80 cm wide.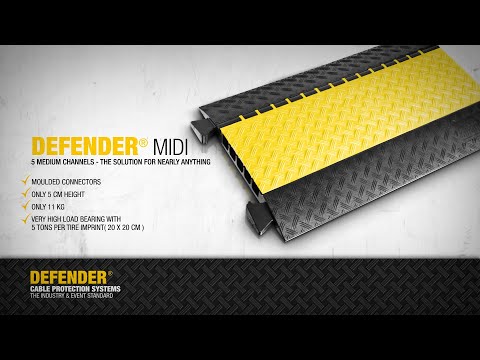 Specifications
| | |
| --- | --- |
| Product type | Cable Protectors |
| Type | 5-channel |
| Length | 1200 mm |
| Height | 52 mm |
| Width | 542 mm |
| Channels | 5 |
| Width channel 1 | 34 mm |
| Height channel 1 | 36 mm |
| Width channel 2 | 34 mm |
| Height channel 2 | 36 mm |
| Width channel 3 | 34 mm |
| Height channel 3 | 36 mm |
| Width channel 4 | 34 mm |
| Height channel 4 | 36 mm |
| Width channel 5 | 34 mm |
| Height channel 5 | 36 mm |
| Material | Polyurethane |
| Max load | Approx. 5 t on a surface area of 25 x 30 cm |
| Chemical resistance | Oil-resistant, Petrol-resistant, Short-term contact with solvents |
| Weight | 13,4 kg |